The Coloradoan
Ft. Collins, CO — Some residents are upset by a white supremacist recruitment flier that was delivered last month in an east Fort Collins neighborhood.
The recruitment flier, produced by the Nationalist Coalition, named Rabbi Yerachmiel Gorelik of the Chabad Jewish Center of Northern Colorado and was distributed Dec. 19 in the Parkwood East neighborhood.
One question on the flier asked whether Gorelik should be allowed to display the menorah in Old Town.
"It was in my driveway," Parkwood East resident Ralph Smith said. "I thought it was a little newspaper."
Click Extended Article to view the flyer.

Smith said he was outraged when he realized what it was.
"I was offended," he said. "I thought someone was trying to recruit in the neighborhood, and I wondered why we were being targeted."
Fort Collins police were notified of the fliers Dec. 19, said spokeswoman Rita Davis, but cannot do anything about it because there were no direct threats or threatening messages on the flier.
The group, an offshoot of the National Alliance, is very active in Colorado, said Bruce DeBoskey, the mountain states regional director of the Anti-Defamation League in Denver.
"They're in Colorado Springs, in Pueblo, in neighborhoods in Denver, in Fort Collins and in the mountains," he said.
Gorelik said he couldn't draw any conclusions that the distribution was sparked by a specific incident.
"I like to think it wasn't locals," he said. "I can't blame Fort Collins. This is not a Fort Collins group."
Fort Collins has been a very welcoming community, Gorelik said, adding that he's received numerous calls welcoming him.
"I wouldn't call Fort Collins anti-Semitic by any stretch of the imagination," he said.
However, this activity is not healthy for the community, he said.
There are two important things for communities to do when literature such as this is distributed, DeBoskey said.
The first is to educate the public on what the group stands for, he said. The second is to speak out against it.
"Speak out in whatever form possible," he said. "Declare your neighborhood, school or town square is a place where this is not accepted."
It is important for the community to express that everyone is welcome there and that hate will not be tolerated, he said.
"They (extremist groups) do it to spread fear, divide communities and recruit new members," he said.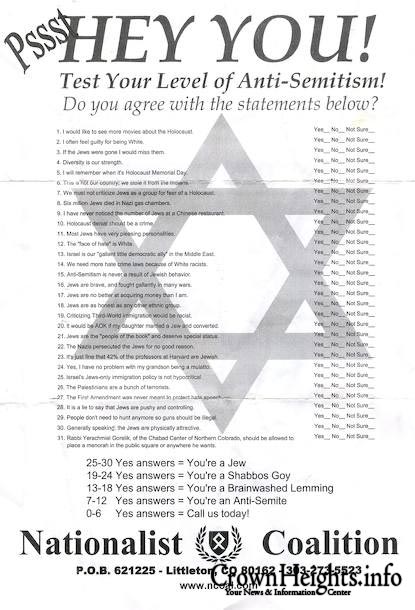 <%popup(Fliers upset residents in Parkwood East area/flyerlrg.jpg|800|1176|Click Here to enlarge the flyer)%>